Low cost chemical sensors
The Organic Materials in Electronics Consortium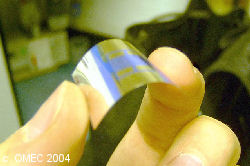 The ability to continuously monitor our environment for chemical contaminants is increasingly important both for military deployments, and for helping ensure public safety. Current analytical techniques are, however, either too slow or too specific to be applied as spot safety checks where the type of contamination is unknown.
Most chemicals affect the behavior of semi conducting materials, as well as human tissues, however, so in principle they can be used as the basis for a detector. A single semiconductor detector is likely to be most sensitive to a small range of chemicals. With the ability to generate libraries of organic semiconductors, OMEC can develop sensor arrays that can fingerprint a wide range of chemicals.
Scientific programme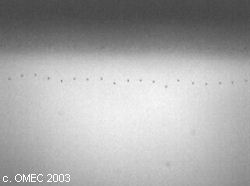 The first requirement is for a chemically diverse library of organic semiconductors that have the required stability to air and water. Such libraries are currently being developed as part of the 'accelerated discovery of organic semiconductors' programme.
The requirement for low cost sensors, that can be deployed remotely, or included in standard 'disaster response' equipment manifestos, means that these new sensors must have very low unit costs. Two techniques for achieving this are being investigated – fabrication into OFET structures by ink-jet printing and a patented nanofabrication technique.
These techniques allow large arrays of detectors to be created, with each organic semiconductor being monitored continuously for signs of a conductivity change in response to target chemicals in the environment.
Pattern recognition algorithms based on genetic programming will allow us to build a library of chemical fingerprints, allowing fast detection of target compounds.
Above right: A train of droplets of polycyclopentadithiophene in anisole solution fired from a standard inkjet printer. Workers at OMEC have shown that devices fabricated using this technique show similar carrier mobilities to those prepared by spin coating.